Thomas Miller Specialty host Summer Lounge Event in Hamburg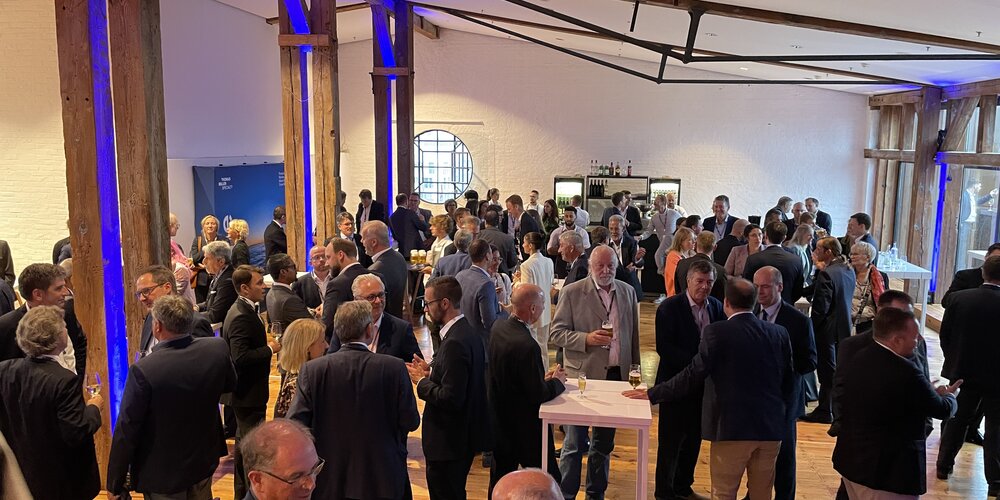 On the evening of the 8th September and after two years of forced absence, Thomas Miller Specialty were delighted to invite local and international guests from all parts of the shipping world to join them on the top floor of the International Maritime Museum in Hamburg for their Summer Lounge party. Rain showers did not discourage some 200 guests from enjoying a gathering of shipowners, charterers, insurers, re-insurers, correspondents, lawyers, brokers and consultants at what was a beautiful venue.
Thomas Miller Specialty GmbH Managing Director, Frank Bergert, made an informal welcome speech looking back on recent developments and thanking the attendees for their contribution to the extraordinary and positive result of the Thomas Miller Specialty P&I team. Looking forward, Frank announced forthcoming changes to the Hamburg management team due to take effect in the summer of 2023. Helge Volger, currently TMS P&I Underwriting Director, will be appointed TMS GmbH CEO and Michael Denstorff, currently Head of Finance, will assume the role of TMS GmbH CFO & COO.
Helge Volger also spoke thanking the whole team for their extraordinary performance over the last 2 years. He highlighted the IT team, who, when Covid hit, reacted immediately making 'working from home' possible with no real notice. In addition they shouldered the move into TMS GmbH's beautiful new office space seamlessly and with no interruption in business performance. Helge confirmed that the dedication of the whole team has led to company producing their best financial performance ever despite Covid, a successful change in carrier and the war in Ukraine with associated Russian sanctions.
All very good reasons to celebrate with the attending business partners until late into the evening!