In partnership with IT Governance Ltd we can help you protect your business from potential cyber threats by providing a full range of Cyber security resources from online staff awareness training and Cyber Essentials packages to ISO 27001 solutions.

Veritas International has been selected by Blackberry Cyber Services as its security partner within the maritime sector. Our combined service is able to provide a comprehensive, holistic cybersecurity solution to our maritime clients. Combining a Blackberry digital audit with a Veritas physical audit creates an opportunity to better identify systemic strengths and weaknesses and therefore enhance our clients maritime security.
Blackberry-Veritas Crew Cybersecurity Training courses are tailored to our clients exact requirements and can be delivered on-board or in the classroom.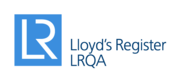 Implementing an information security management system (ISMS) and gaining ISO 27001 certification will present a number of benefits to your company and to your customers. LRQA has a range of ISO 27001 services to help protect your organisation against cyber threats, including certification and training courses for all levels of knowledge and expertise.